<:: Retrieving Photographic Identification...
<:: Loading...
<:: Complete!
<:: Significant Markings...
Tattoo of Swastika located (Left Pectoral)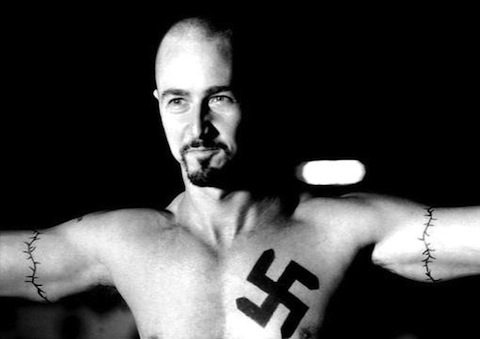 <:: Basic Information ::>
Birthplace:
Brześć, Poland
Prewar Occupation:
Arms Dealing, Drug Trafficking, Affiliation w/ Slavic Supremacy & Neo-fascist gangs
Among his family, both bloodborn and gang affilated, Markus has been taught the way of being loyalty and respect to his higher-ups and friends. In addition, ambition and determination towards his prior goals. Despite the obstacles, he will strive and struggle until standards have been met.
Rejected by Polish Special Forces, this hasn't stopped Markus to recieve moderate amounts of Training. Lucky for him, he has been taught by family and friends basic Close Quarters Combat, intermediate gun safety and training. The Anarchist Cookbook has been a favorable guide of Markus. Teaching him how to develop low grade explosives, low grade and low caliber weaponry, etc.
-"I'm not like that, anymore."-
Despite his troubled past and devotion for Neo-fascism and hatred of races that differ from his own, his political and social view grew heavily dynamic allowing him to re-think his values once the infamous Seven Hour War has ended and after Earth's surrender and succumb to the Union.
Unfortunately for Markus, English is in fact a second language for him. Due to minimal performances in his academic career, he barely speaks English but rather in broken sentences. He understands the language almost, if not perfectly. This slightly changed his vocabulary on speaking it earlier in the month of December, 2016. When he was sent to BSS and reeducated to learn basic English words and sentences - most likely commands in order to be much more obedient to Combine law, and understanding of the Combine Rule
As a ritual for most followers of neo-nazism, or "Skinheads" as most would call them, is to get a tattoo of some sort in which represents their hatred of diverse races and their devotion for White Supremacy, most in which are symbols of Nazism. Markus permanently has a black, Nazi Swastika in ink embedded in his skin located on his chest. Markus no longer follows the ideology of Fascism, so upon each day, he regrets ever recieving that tattoo.
Changing his views has not been precisely easy for Markus, consider the things he has done before the war. He cannot go back and revert the heinous actions he's performed and are forever drilled in his mind. The multiple crimes against humanity he has caused remain unjust to this day.
<::Backstory::>
(In which, I'll make at another time.)
(Vilified Hated Disliked Neutral Friend Close Friend Love Interest)
To be added in the future